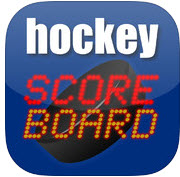 Use JD Hockey Scoreboard to create a great looking scoreboard for your hockey game. Whether you play street hockey, floor hockey, or table hockey, JD Hockey Scoreboard is for you.
Display an easy to read and fun to use hockey scoreboard to let your friends follow along in the hockey action.
JD Hockey Scoreboard for iPad features include:
Multiple themes – choose from 3 different text styles for your hockey scoreboard.
Faceoff music – get charged up and enhance your game with authentic organ faceoff music between faceoffs.
Penalty clocks – manage up to 4 different penalties running at the same time.
Shot clocks – keep track of shots on goal with each team's shot clock.
Swipe interface – change the score, the time on the clock, and many other elements by swiping up or down.
Auto periods – when the period ends, automatically advance to the next one.
Sounds – end of period buzzer sound and a goal siren.
Customizable team names – customize team names using the settings panel.