JD SPORTS SCOREBOARD – iPad and iPhone
Use JD Sports Scoreboard to create a great looking scoreboard for your hockey, basketball or football game.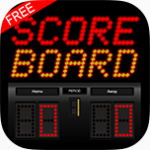 PRICE: Free
Display an easy to read and fun to use scoreboard for your fans and friends to follow along in the action.
Features include:
Multiple sports – choose from Hockey, Football or Basketball. Or create your own Custom sport.

Swipe interface – change the score, the time on the clock, and many other elements by swiping up or down.

Two finger swipe increases or decreases score by 2 points.

Auto periods – when the period ends, automatically advance to the next one.

Sounds – end of period buzzer sound and a goal siren

Customizable team names – customize team names using the settings panel

iPad version – use the Camera or Photo Library to add an image for the team.  Add a Selfie!
WHO WE RECOMMEND THIS APP FOR:
Many young children's hockey or soccer games do not display score.  Keep track yourself.

Keep track of time and score for any type of board game or competition.

Connect the phone or iPad to a monitor or TV and you have a large scoreboard in your home.

Street hockey, game of 21, 1 on 1 basketball, eating or drinking competition, the uses are endless.

Follow along with sports on TV with your own personal scoreboard.
Here is a video of 4 year old Jonah, our resident beta tester, putting the app through its paces during development: