YUCKY MATH
Fart Sounds + Math Questions = Yucky Math


PRICE: Free 


9 Year Old Comes Up With App Idea…
Fooling Around During Homework.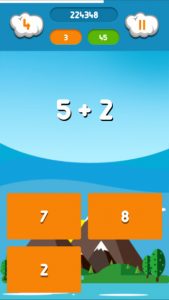 One of our kids (grade 4, age 9) and his little brother (grade 2, age 7) were doing math worksheets together.  And as usual, they weren't overly interested in doing math questions.
The little brother would write down the answers and check with the 9 year old whether they were correct or not.
One question, the little brother halfheartedly wrote down an answer to a question.  Then he asked his older brother, "Is that correct?" The 9 year old, who is usually quite gassy, farted instead of saying, "Yes."
His little brother laughed and then promptly answered the next question.  The 9 year old squeezed out another little fart.  That made both of them  laugh hard and they both became more interested in what they were doing.
And that's when the 9 year old said, "Hey, there should be an app like that."
But with dad having no programming skills, he quickly turned to his good friend, an experienced programmer.  And the good friend and another colleague created it.  And that's how Yucky Math was made.
However, Apple had other ideas about the original concept and the name.   Therefore, after many many revisions the app is finally in the App store under the name Yucky Math.
All of our kids were heavily involved in testing the app, giving us feedback on the question difficulty coming up with new sound ideas, and approving and disapproving new possible sounds for the app.
Kids' Involvement
Our kids were heavily involved in the development of Yucky (aka 'Fart') Math, including:
Original Idea for the app

Overall app design

Ongoing app testing

Selection and evaluation of the sounds used in the app
Who we recommend this app for
Kids of all ages (especially Elementary school aged), or anyone who thinks they are good at math and want to prove their skills.