SOUND MASTER!
Sound Master! came about from our kids learning to play the piano.
We were always looking for a fun way for them to learn something about music.
We asked our kids. What would be fun and somewhat unique?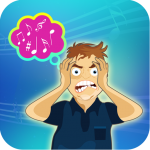 PRICE: Free
The concept was born of playing random sounds and having the user play them back from the lowest pitch to the highest pitch.

Four Sound Worlds.  Piano, Basic Fart, Electric Guitar and Pig.

Each Sound World has levels from easy to Boss levels.  Earn coins to unlock the different Sound Worlds.

Piano Sound World is Whole Notes.  Other worlds are comprised of half notes…making it more difficult.

KIDS INVOLVEMENT
The kids became extremely involved in the creation of this game.
They made the suggestion to have a "Help" or replay button to listen to the sounds again.

As well it was their suggestion to dock the user some points for using the "Help" feature.

The kids helped with the graphics and idea of the upset person on the home screen.

The original game only had the "Master" mode of the game. Which our kids found a little too challenging. Therefore the "Novice" and "Amateur" games modes were also created to have an easy and mid level of difficulty.

WHO WE RECOMMEND THIS GAME FOR
Children to learn a sense of "tone"

Anybody who wants to test their "tone" and memory skills

See if you can complete the "Master" mode!