JELLY MINES
Exciting and Stressful!  Will get your heart racing!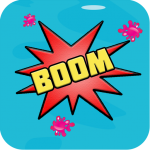 PRICE: Free
Move Jelly Man to the Finish Line without blowing him up!

Just avoid the land mines.

It's not as easy as it sounds  🙂

Maybe the most simple game ever made.  But, perhaps the most addictive.
See how many times you can make it to the finish line!